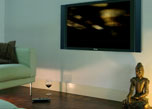 About Video Paintings

"Video Paintings" are ambient video works presented on flat panel TVs and wall-mounted in the same manner as traditional paintings. Content in this emergent form is designed to work at all times as either a highly aware foreground experience, or as passive background. It can act as the focus of attention or as background ambience, submerged within the surrounding environment. It is, at its core, an exercise in ambient video. There is no sound accompaniment, it is only video. Like traditional paintings, video paintings hang on the wall to be viewed or passed over - depending on individual viewer preference in the moment.

The imagery must be visually interesting and capable of rewarding close viewing at any point in time. It should change, but not too quickly, and the details of any particular change should not be critical over a limited time frame. Ambient video art works concentrate on rich and compelling visuals, making full use of the screen's size and resolution. The size and beauty of the imagery capture a casual glance at any moment. The resolution and detail of the image enable subtle details that can sustain a more concentrated gaze. The incorporation of slow change and metamorphosis support still longer and closer examination. The form privileges the use of slow motion, gradual transitions, visual effects, layered and complex imagery and subtly embedded secondary visual artifacts.

Ambient Video works do not contest or demand our attention - though they reward it. The stance of this form is the seduction of visual sensibility. The archetypal situation is a background visual during a cocktail party. People will converse, and then glance at the screen during a pause in the talk. The glance will be compelling, for a moment, or a minute, or several minutes. Then the conversation resumes, and the viewers withdraw their attention--until the next pause in their personal flow. When the viewer is again ready, the screen will be there, revealing rich and living imagery at any given moment of choice.