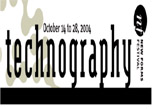 NFF 04 - Cinema 04

Cinema 04: Experimental Culture

Program 1

In recognition of the invaluable role cinema has played in the development and creation of global culture, and the inherent integration of technology within the genre, NFF 2004 is exposing innovative works which map the crossroads of culture and technology. Artists working in unique and innovative directions in: integration of sound and vision; technology and cinema; narrative (or distinct lack thereof); documentary; experiments in the artist's medium of choice (i.e. film, dv, video); and innovative approaches and techniques to film-making will be shown during the NFF04 Cinema Evening. This is a night that will bring together people from numerous walks of life who regard interesting experimental cinema as an integral aspect of society and art today. Based on the theme of 'Technography', the NFF will show a variety of films from a wide milieu of cultures and styles.

Works by Myriam Bessette, Kevin Bolster, David Fafard, Takagi Masakatsu, Dennis Miller, Object, Scott Pagano, Alain Pelletier, Phoenix Perry, Silicom, Pumo


Program 2

A delectable selection of the very best videomusic produced at the Université de Montréal, the mecca of the genre since the mid-90s. Moving electronic imagery set to disconcerting musics and improbable plots. Past and current students of Jean Piché explore dozens of unexpected ways to twist pixels and samples into a coherent whole. Videomusic issues from electroacoustic music, using similar techniques for the generation and treatment of both images and sounds. Works by Martin Messier, Francois Girouard, David Fafard, Krystel Burlin, Guillaume Coutu-Dumont (of the Montreal duo EGG), Colin Gagné, Nicolas Cloutier, Eric de Andrade, Delphine Measroch, Francois Handfield and more.