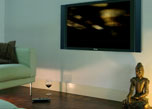 About the Series

The 'O' series represents a milestone in our Video Painting works. Not only are the pieces in this series created at HD resolution (1080i) but the works themselves are crafted from a much deeper manipulation of image and time than in our previous paintings.

New techniques in layering and effecting were used in order to fully maximize the depth and clarity that the HD format provides. As well, an entirely new system was developed to slow down the footage to extraordinary levels of slow motion. Coined 'progressive retiming', the process uses a combination of sophisticated high-end software calculations and good old-fashioned manual manipulation. Through the implementation of these new technologies we have been able to craft works that exhibit a depth, texture and near-imperceptible motion previously unattainable in our other works.

Integral to our work is the use of extreme slow motion. Upon a passing glance the work appears to be still - it is only after a returning glance or concentrated awareness that the motion of the piece reveals itself. Our work takes a fleeting second and expands it into a timeless contemplation of the moment.